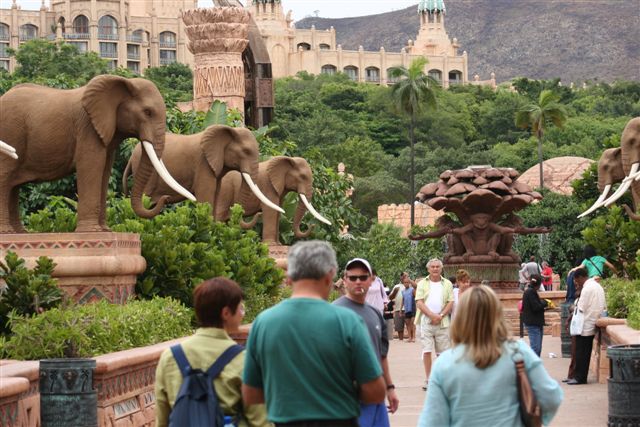 Nelson Mandela Square:
Nelson Mandela Square offers 85 boutiques, shops and salons, offering the sophistication of designer labels, curios and culture, art, African couture, jewels and books.
NELSON MANDELA Statue
Shopping:
SANDTON CITY is the ultimate shopping sensation. This three-tiered tower is a maze of escalators and lifts and, with 290 stores under its roof, is a one of a kind experience.
Cradle of Humankind
A set of caves west of Johannesburg, where many experts believe mankind's hominid ancestors first appeared. Meet the famous "Mrs Ples" and the amazing "Little Foot".
Alexandra
Established in 1912, Alexandra is one of the earliest urban black settlements in Johannesburg, predating even Soweto. It is the site of a multi-million rand presidential development initiative.
Botanic Gardens
One of South Africa's finest succulent collections, in addition to wide open green spaces, sparkling dams, roses, herbs, birds and trees galore.
Monte Casino Bird Gardens
In these area lives almost 200 species of birds and over 1 500 species of small animals. A feature being is the walk-in aviary containing 100 species of birds.
Touring Soweto
The township whose name became synonymous with anti-apartheid resistance. On one street, the Mandelas and the Tutus once lived
Moroka Dam, Thokoza Park and Klipspruit River
Water system, once a prime attraction of Rockville, Soweto, which upgrading is worth a R20-million mayoral showcase project. The project has rekindled community spirit among local residents.
Brixton cemetery: host to history
Landlords, strike leaders, politicians, editors and more lie shoulder-to-shoulder (almost) in this early cemetery
Kippies: Legendary jazz venue
A Victorian loo becomes a Newtown jazz club, host to some of South Africa's great musicians
Old Fort & Constitutional Hill
The jail that held leading activists from Nelson Mandela to Mahatma Gandhi is reborn as the constitutional court, and as a museum
Kliptown
The Township where the famous Freedom Charter was signed half a century ago, is to have a huge heritage site at its centre
Liliesleaf Farm
The farm where the ANC's underground leaders, including Nelson Mandela, operated until their capture
Enoch Sontonga memorial
Resting place of the simple man who wrote what became the national anthem
Avalon's thousands of graveside cots
There aren't many places in the world where you end up in a cot when you're dead and buried. But in Avalon Cemetery in Soweto there are thousands of cots demarcating graves.
Museum of apartheid
A visit to Johannesburg's new Apartheid Museum is a moving experience -- you almost feel you were there among the toy demonstrators facing down the police
Mai-Mai: visit a genuine African bazaar
The city's oldest market, Mai-Mai, transports the visitor into a fascinating world of indigenous African clothing.
Gandhi's Johannesburg
Mahatma Gandhi evolved his "satyagara" philosophy of non-violent protest during a long and colorful period when he lived in Johannesburg
Ghostbuster tour
A bus tour takes visitors to sites of intriguing murders in the city
A trip down a mine shaft
Take a trip down an old Johannesburg gold mine -- which even boasts the world's deepest pub.
Melville Koppies
Step into unspoiled Melville Koppies, and you'll forget that you're in the middle of a bustling metropolis.
Croc City Crocodile Farm:
Croc City Crocodile Farm provides the opportunity for the public to observe one of the world's most spectacular predators at close range.
Also, you can visit nightclubs, movies and restaurants.